Research Assistant
Jeanette Elliott joined Jim as Research Assistant for the "Heroes of Huron County" in the Fall of 2009. Born and raised in Blyth, she currently resides in Lucan but will always consider herself a Huron County native.
Jeanette and her husband Rob are big history buffs, but a trip to the Clinton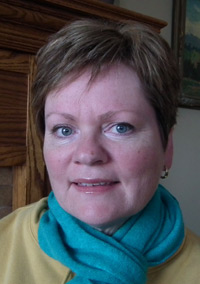 Cemetery some years ago to do some genealogy research revealed a family mystery and renewed a passion for Canadian military history. A headstone marked the resting place of Rob's great uncle Frank, and noted he was killed in 1917 at Passchendaele, Belgium. This started a quest for more information, not only about Frank, but about many other relatives that served in WW1.
After three trips (so far!) to the Canadian battlefields and cemeteries in Belgium and France, visits to numerous museums, libraries and archives, and constant reading and collecting on the subject, Jeanette's interest in the Canadians in WW1 just continues to grow. Her goal in doing research for the book is to use a variety of resources to gather as much information as she can about each man or women on the list - both their military career and their life before enlisting – in order to bring their personal stories to light.
Jeanette's background includes historical research and interpretation, project management, customer service, and retail office management. She holds a Certificate in Museum Studies from the Ontario Museum Association, works at Fanshawe Pioneer Village, and is a volunteer wish grantor for Make-a-Wish Southwestern Ontario.