The Men of Huron
Jim's first book, The Men of Huron – A Book of Honour and Remembrance – 1939-1946, began to take shape in late 2005 and by June 2009 the book was completed and published.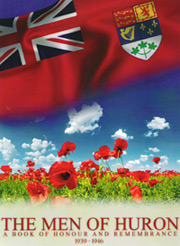 Upon learning that nothing had ever been written to honour and remember all the Huron County men who served and never returned home from the Second World War, Jim decided that it was the least he could do.  It was his way of thanking them for being able to live in freedom.
To date there have been three printings of The Men of Huron, with copies placed across Canada and the United States and as distant as the Bavarian State Library in Munich, Germany.  In Huron County books are available in Goderich at Finchers Book Store, Signature Books, and the Huron County Museum, in Wingham at the North Huron Museum, and in Bayfield at the Bookshelf.  You can also purchase books directly from Jim – just send him a note using the form on the "Contacts" page of this website.