Author
Jim is a local historian who resides in Goderich, Ontario. Much of the last ten years has been dedicated to researching all of the 700+ men and women from Huron County who paid the supreme sacrifice during World Wars I and II. He has always been interested in the World Wars as his father was in Group 6 Bomber Command during World War II and a number of his close friends are veterans.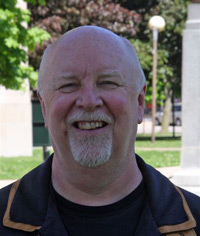 He has researched and published The Men of Huron (1939-1946). This project began in late 2005 and was published in mid-summer of 2009 and to date he has had three printings and is very close to a fourth printing. This book gives you the stories of 204 men.
Presently, he and his research assistant are researching The Heroes of Huron County (1914-1921). This book will cover 510 individuals - each person with their own story to tell.
These books when they are completed will honour and remember all of the men and women who called Huron County home or were born in the county and paid the supreme sacrifice.
Both Jim and Jeanette feel that this is the very least they can do and it is their way of thanking these men and women for all they gave us so we could live in peace, freedom and democracy.